Sam was chosen as cover star for Men's Health Magazine's bi annual supplement Urban Active. Along with some absolutely stunning new photographs of our favourite guy there is also this amazing interview which we have transcribed below. Please credit us if you are using our scans or transcription.
Interview
Post-apocalyptic life looks remarkably mundane to 29-year-old Sam Claflin. "I just got back from my parents' place in Norfolk", says the Brit actor. "Waking up to the bin men driving up the street kind of puts it all into perspective."
Perspective is useful when you're coming off the back of a dystopian pop-culture phenomenon like The Hunger Games, in which Claflin plays trident-wielding tribute Finnick Odair. The final instalment – Mockingjay Part 2 – hits cinemas in November. In case you've mistakenly written it off as Twilight-lite, the series of young adult novels turned film franchise combines a surprisingly sharp critique  of social inequality and reality TV with surprisingly sharp weapons, as subjugated teenagers from poor districts are forced by their metropolitan overlords to fight to the death, Battle Royale-style, in the name of Saturday-night entertainment.
The cast is also unexpectedly heavyweight: Jennifer Lawrence, Woody Harrelson, Phillip Seymour Hoffman…and, or course, Norfolk's own Sam Claflin. It's fair to say he's now in a different league. "It's been an incredible springboard for my career", he says, "It's allowed me to walk into rooms that I couldn't before. It's definitely opened many doors. Many windows too". Ones presumably marked 'Hollywood leading men only'.
The Hunger Games is an omnipresent force in Hollywood these days. But when Claflin first walked into the casting room a few years ago, he didn't even know what he was auditioning for. The script for the second instalment in the trilogy in which his character was introduced bore the secretive working title Idiom rather than the actual name of Catching Fire. "I'd seen the first Hunger Games movie but I wasn't aware that it was a trilogy, or that there were books," he says. "It wasn't until I received the scenes that I had to audition with and saw there was also a character called Katniss. I'd heard that name before, so I did a Google search on 'Katniss' and 'Finnick'. I had a lot of research to do the night before…"
In the process, Claflin also learnt that he wasn't exactly the "six-foot, tanned, blonde, green-eyed god" that Finnick is described as in the books. But he didn't let that unwelcome discovery intimidate him. "I never had any doubt in my mind that I was wrong for the part," he says. "So I went in there all guns blazing, thinking "What have I got to lose?" The same self-effacing attitude was in effect when he auditioned for 2011's Pirates of the Caribbean: On Stranger Tides, the big-screen break that took him from small-screen obscurity: "Part of me was like 'This is so not going to happen – as if I'm going to be in a Pirates movie!' I went in not expecting anything and somehow it worked out." And then some. Hey, if you're scared to shoot, you won't score.
While Google was Claflin's friend before the Catching Fire audition, it soon became his enemy as trenchant fans reacted less than enthusiastically to his casting. "I remember reading Sky News thinking, 'Oh, bloody hell!'" he recalls, "I couldn't avoid it." But again he turned a negative into a positive. "It could have gone two ways," he says, "It could have made me very depressed and angry. But a part of me trusted that the producers and casting director and director knew what they were doing. And I'm very determined. I knew I had a long way to go physically, but I also knew I could do it and I wanted to prove it to the doubters. It spurred me on to work harder."
For Claflin, that work started three months before filming. Although he didn't quite have to starve himself for The Hunger Games, his menu choices were strictly rationed. "I was in a hotel and I didn't have a kitchen," he explains. "So I just constantly ordered chicken and asparagus on room service because I was too worried about eating anything else. That and an omelette for breakfast was literally all I ate for months. It was depressing, I can't deny. But once I saw the results, it inspired me to keep going."
Liquid Diet
The food was less of a struggle for Claflin than the drink, or lack therof. "I didn't have any alcohol for three months, which is a record for me," he says. "As an Englishman, beer is a big part of my life." But he could at least remove himself from the temptation: "Because I was filming in Atlanta and not England, I didn't have the distractions of my friends or family saying, 'Oh go on, just have one'. There's nothing worse when you're not drinking than the smiling face of your wife or best mate on the opposite side of the table." There probably are worse things than being driven to drink by the delectable actress Laura Haddock (of the Inbetweeners Movie fame, whom he wed back in 2013 after meeting her in another audition room) but we take his point.
Hatton's Law dictates that, for every unsustainably extreme regimen, there is frequently an equal and opposite reaction. Such was the case for Claflin. "I finished filming the latest Hunger Games in June 2014, went straight to Glastonbury and it was all downhill from there," he admits. "I started to put on weight and didn't really realise until I got cast in a film that was starting in January this year." While Me Before You (out in 2016), in which he plays a recently wheelchair-bound adrenaline junkie who is assigned Games of Thrones' Emilia Clarke as a carer, didn't exactly call for rippling abs, he needed to return to slender. Well eventually: "I knew I had to lose weight in January anyway, so I thought 'Why don't I just keep eating and drinking until then?'" Before long, Claflin found himself in a place that will feel familiar to many of us: "Waking up one morning in January when it's grey outside, not wanting to get out of bed, much less go to the gym, realising that I had a long way to go." Three stone in three months, to be precise. Like any good actor though, he soon found his motivation. "Once I started training again, and I was waking up fresh, eating well, drinking well – lots of water, which I've never been able to do – I felt so much healthier and better within myself," he says. "Plus, because I wasn't drinking as much, I had less to burn off the next day. It was a win-win. Exercise makes me feel better about myself. It aides me and it aids the camera too."
Firm Self-Belief
Increased confidence is handy given that the shirt-off shot is a nigh-on unavoidable occupational hazard for the modern box-office actor. "It's not something I'm comfortable with, but that's the industry and the world we live in," says Claflin. "And I can safely say that I'd rather cast someone with a six-pack like Zac Efron – where you know thousands of girls will go and watch him – over Sam Claflin, who has a couple of fans from Norwich, from his old school, that he's paying." There are many who would beg to differ. Besides, athleticism is not alien to Claflin. A talented footballer in his youth, he was enrolled in his beloved Norwich FC's school of excellence until fate intervened and he broke his ankle at age 16. Perhaps it was fate, too, or just good casting that he went on to play Duncan Edwards in United, the BBC series about the ill-fated Busby Babes. Or that he's been picked for the film adaptation of The Greatest Footballer You Never Saw: The Robin Friday Story. If you never saw him, Friday was a maverick striker for Reading and Cardiff in the '70s. Blessed with sublime skill and cursed by substance abuse, he retired prematurely and died at just 38. "They say that if George Best was the first celebrity footballer, then Robin Friday was the first rock star," explains Claflin. And he won't have to worry about getting into shape: when Friday did turn up to training he was usually drunk and occasionally carrying a swan (yes, really). "It was a different world," says Claflin. "The players didn't live on Lucozade. They were drinking cups of tea and having cigarettes at half time. The story is the opposite of how fit he was, It's how unfit he was!"
Speaking of fit, new kit is becoming a pre-occupation for Claflin. As a burgeoning, photogenic actor, he often finds himself at fashion shows and shoots like this one. "I didn't have a clue about fashion growing up, although I thought I did," he says. "Now I do, but I still don't really understand it. Sometimes I look at something on a runway and think, 'why is that fashionable?'" One brand he does get in both senses is Burberry, at whose recent menswear show he sat on the front row (next to Radio 1 DJ and scenester Nick Grimshaw, who subsequently tweeted that Claflin was "the best-smelling person. If you see him in the street, give him a sniff"). "Burberry is simple, elegant and really easy," he says. "I'm still learning as I go though. There are definitely more fashionable items in my wardrobe than before. But I'm a comfort man at heart. I like jeans, a T-shirt and a pair of trainers." For a man who professes not to be particularly fashionable, he gives remarkably good red carpet. "Usually someone tells me what to wear," he downplays. Film premieres, like borrowed clothes, don't feel entirely comfortable to him. "The nerves get the better of me and the adrenaline takes over," he says. "I'm wearing a suit and shoes that I have to give back later, and a tie up to my neck that's rubbing on my stubble, and my hair's not quite how I'd imagines and I've got tiny bits of make-up on…It's so not me."
Perhaps the most important role that Claflin has learnt to play is that of the self-assured, successful actor, "Especially at the beginning of your career, when you walk into that waiting room, you're sweating profusely and going over your lines. You knew them last night, but why don't you know them now?" he says. "And you sit opposite someone who's much better-looking and more suited to the part. I must have auditioned hundreds of times before I got my first job. And part of me was saying, 'Maybe this isn't for me'." But the other part of him won out, and eventually he secured parts, which emboldened him to bag more and bigger roles. Before you know it, you're in Pirates of the Caribbean, or The Hunger Games, or – according to rumour and IMDB – Star Wars spin-off Rogue One (although even using The Force won't make him confirm or deny as much). That's the trick with confidence: to quote noted philosopher Tupac Shakur, if you believe, you can achieve.
"I don't know what it is," says Claflin. "I'm obviously doing something right. But I'm happy that I don't know what it is."
The Hunger Games: Mockingjay Part 2 is released nationwide on 19 November.
Photographs by Neil Gavin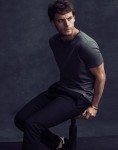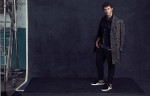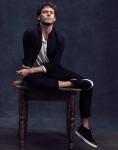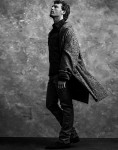 Our Scans
(Please credit us if using)