SCF were in London once again to support our fave guy at the long-awaited European premiere for Me Before You! And we are so excited to be able to tell you all about it!
Although we knew that it was unlikely that Sam would make the premiere (as he is really busy filming My Cousin Rachel at the minute!) we wanted to be there, as always, to support him & his incredible work in this film! And of course, he was due to present a fan screening later on that evening! We went to the Curzon Mayfair (where the premiere was to be held) at 11am on Wed 25th May in order to get our wristbands for the premiere. Then it was a case of waiting until the excitement of the night!
When the time arrived for us to take our places at the premiere we managed to get a great spot where we could see the cars pulling up & catch all the stars as they arrived on the red carpet! We saw Jojo Moyes and told her how thrilled we were that Sam had been chosen to play Will & that we knew he would do an incredible job. We also saw the director Thea Sharrock & thanked her for choosing him for this amazing role! And, as always, we would like to thank Sam's lovely Mum & Dad (& little brother Joe!) for coming over to say hi & have a little chat with us on the way in -they are always so kind and it is always a pleasure to see them!
After all the stars went in to watch the film, it was time to wait for Sam's arrival! He posted on Instagram to say that he had just finished filming & was on his way back to London, so we took our spot next to the door and waited for our fave guy to arrive! After Sam introduced the film to the lucky fans inside the screening, he came out to see the fans patiently waiting at the front. And then it was our turn! It was so lovely to see him again! As always, he was so happy to see us there and thanked us for coming. We told him that we would always be here to support him & that we couldn't wait to see the film and that we knew he would be incredible and he was genuinely touched. It truly is a pleasure to support such a kind and talented man each & every day.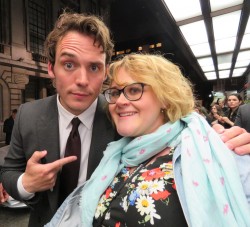 So there you have it! We hope you enjoyed reading about our latest premiere adventure and we are looking forward to the next one! Very excitingly, SCF were also invited to attend a press screening for Me Before You on Thursday 26th! Be sure to check back with us in the next few days to see our article all about that (including spoiler free video review!) 🙂