SCF were in London once again to support our fave guy at the premiere for Mockingjay Part 2. And it is with great pleasure that I can tell you all about it.
We went to Leicester Square at 4:30am on Wed 4th November in order to try and get a decent number for the red carpet. Incredibly some dedicated fans had been camping out since Sunday night (!) so when we arrived we were met with the sight of lots of sleeping bags. Whilst waiting to get our wristbands, a nice guy from the Express newspaper came to take some photos and liked the look of our sign so he took a snap!
The day of the premiere was very wet and very cold. But we met lots of lovely people and the atmosphere was great so the hours flew by.
Credit – Sforza Ilaria
It was amazing to see Sam on the red carpet. He was clearly so happy to see us there and thanked us for waiting out in the rain for him. He seemed to take a liking to our banner, suddenly grabbing it from us & showing it off to the press before posing for a photo for us – honestly one of the greatest moments of the night! It was so lovely to see Sam so happy.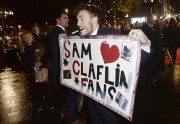 We told him that we would always be there to support him and he thanked us so warmly once again. Before he left he also told us that Laura was on her way, which led to the other most exciting and magical moment of the night!
It was so lovely to see Laura looking so beautiful and glowing & it was magical to share this special moment with them! They looked a picture of happiness. Congratulations to you both!
I'd just like to say a special thank you to Sam's parents Sue & Mark for coming over & saying hello as well, even though it was raining and cold! Thank you to Sam & his whole family for always being so lovely & kind to us. It is a pleasure to support Sam & we always will.
So there you have it! We hope you enjoyed reading about our latest premiere adventure and we are looking forward to the next one!
Credit to Daily Mail, Panem Propaganda and Sam Claflin Brazil for some of the pics 🙂
Our adventures so far…
SCF and The Quiet Ones Adventure
SCF London Adventure No 3: The Riot Club & Love Rosie
SCF at Mockingjay Part 1 World Premiere