SCF was in London once again to support Sam at the Mockingjay Part 1 World Premiere in Leicester Square on November 10th. Thanks to everyone who came to greet us, who are following us and supporting Sam! Lovely to meet you all!
Sam looked incredible and was sweet as always. Like we said to him, we will always be here to support him. So thank you again Sam for being such a wonderful person and for always being so sweet to us and everyone else. I was lucky enough to be pulled inside the cinema to go and watch the movie, by a woman from the security who picked people at random. I really didn't expect to get the chance to watch the movie. It was a huge surprise and I wasn't disappointed.
It was an absolute privilege to be at the Mockingjay Part 1 premiere in London to represent Sam Claflin Fans. I must say a huge thank you to Val for pursuading me to attend! I unfortunately didn't get to stand with the rest of Sam Claflin Fans as there was no more room so I stood further up and hoped that I would still get the chance to see Sam. And luckily I did. Sam recognised us from the Love, Rosie premiere and came straight over. As always, he was so sweet and kind and it was a pleasure to chat with him. Thank you for everything Sam. And I cannot wait to see the film on release day! – Jemma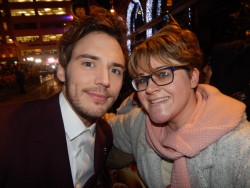 Review with NO spoilers (focus on Sam/Finnick)
Once again, Francis Lawrence made an incredible job. A masterpiece. Staying very true to the book (some of Finnick's most famous lines are in there), and at the same time innovating with brilliant visual effects.
We certainly loved every bit of Sam as Finnick Odair, from the beginning of the movie, to tying knots, to his speech about President Snow, to meeting again with the love of his life Annie Cresta. We can't wait to see more of these two together in Mockingjay Part 2. Sam perfectly portrayed the unstable and fragile Finnick described in the book. And wecouldn't be more proud!
As for the rest of the cast, everyone is AMAZING, special mention to Josh Hutcherson for his incredible acting as Peeta Mellark and Philip Seymour Hoffman who was truly honored in the movie. Overwhelming.
Hope you can all watch it soon and let us know what you think of the movie and Sam as Finnick!
PS: we can't say more with no spoilers.
 Check out all the photos we took at the premiere:
HERE
 We were interviewed by Digital Spy and of course we talked about Sam!