After months of patiently waiting we have finally been given our first glimpse of what we have to look forward to in June with the release of Me Before You. Firstly, on Tuesday 2nd February, Jojo Moyes tweeted us our very first glimpse of the stunning movie poster! Classy & beautiful, it shows Sam as Will in his wheelchair with Louisa on his lap, wearing her famous red dress. The hashtag #LiveBoldly is emblazoned across the bottom, something which the book certainly tries to teach us how to do. Along with this, thanks to USA Today, we were also given a glimpse of some incredible stills from the film too!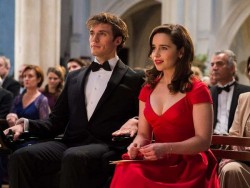 Then, on Wednesday 3rd, we were given our first glimpse of the beautiful trailer. And it doesn't disappoint. Jojo herself said "It's about as close to the book as we could get without actually pasting pages of it onto the screen." And we have to agree. Sam is perfect as Will, as is Emilia as Lou. We are so excited & cannot wait for June! No wonder Sam, Jojo & the rest of the cast are so proud, It looks like it is going to be incredible. Watch the gorgeous full length trailer below.
Warner Bros. Pictures, New Line Cinema and Metro-Goldwyn-Mayer Pictures are thrilled to present the first trailer and one-sheet for the eagerly anticipated adaptation of Jojo Moyes' best-selling novel ME BEFORE YOU. Starring Emilia Clarke, Sam Claflin, Matthew Lewis, Jenna Coleman and Charles Dance, ME BEFORE YOU will be released in cinemas on June 3.
Oftentimes you find love where you least expect it.  Sometimes it takes you where you never expected to go…
Louisa "Lou" Clark (Clarke) lives in a quaint town in the English countryside.  With no clear direction in her life, the quirky and creative 26-year-old goes from one job to the next in order to help her tight-knit family make ends meet.   Her normally cheery outlook is put to the test, however, when she faces her newest career challenge.  Taking a job at the local "castle," she becomes caregiver and companion to Will Traynor (Claflin), a wealthy young banker who became wheelchair bound in an accident two years prior, and whose whole world changed dramatically in the blink of an eye.  No longer the adventurous soul he once was, the now cynical Will has all but given up.  That is until Lou determines to show him that life is worth living.  Embarking together on a series of adventures, both Lou and Will get more than they bargained for, and find their lives—and hearts—changing in ways neither one could have imagined.