Fans waiting for news of the release of Sam's new film Me Before You, based on the novel of the same name by Jojo Moyes received some this morning when Jojo tweeted in regards to the release date.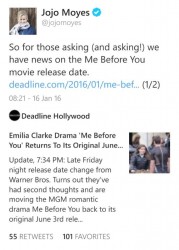 The film was originally given a June 2016 release. However, late last year, producers appeared to want to try and grab the US market during their Spring Break so decided to move the release date to March 2016. And now it seems they have had a change of heart, moving it back to its original June 3rd release date.
You can read both Deadline articles re the changes HERE
We are very much looking forward to seeing Sam in this role and cannot wait for June!