On November 7th, filming commenced on Sam's newest project Journey's End. Based on the 1928 play by R C Sherriff, it tells the story of life in the trenches during WW1. Sam will portray Captain Dennis Stanhope, a young commanding officer who has changed dramatically due to his time on the front line in France. The cast also includes Asa Butterfield, Paul Bettany, Tom Sturridge, Toby Jones & Robert Glenister. Below, we have written a synopsis & a description of some of the main characters so you can familiarise yourself with them!*
Synopsis: Set during the First World War, Journey's End concerns the lives of a group of British officers on the front line and opens in a dugout in the trenches in France. Raleigh, a new eighteen-year-old officer, fresh out of English public school, joins the besieged company of his friend and cricketing hero Stanhope, and finds him dramatically changed…
Stanhope (Sam Claflin) – Commanding Officer of an infantry company. Tall, with dark hair, carefully brushed, his uniform, though old & war stained is well cut & cared for. He is good looking, rather from attractive features, than the healthy good looks of Raleigh. Although tanned from months in the open air, there is a pallor under his skin and dark shadows under his eyes.
Osbourne (Paul Bettany) Officer. Tall & thin with a fine head of close cropped, iron grey hair. He looks about 45 – physically as hard as nails.
Raleigh (Asa Butterfield) Officer. A well-built, healthy looking boy of about eighteen, with the very new uniform of a second lieutenant.
Hibbert (Tom Sturridge) – Officer. A small, slightly built man in the early twenties, with a little moustache & a pallid face.
*Descriptions taken in part from the play-script of Journey's End by R C Sherriff. You can find a copy here
Some of the cast & crew (including Sam) have been sharing some wonderful photos from the set already & it looks incredible…truly authentic! Check out the photos below, and keep checking back with us here for more updates as filming continues!
I feel so honoured to be a part of this beautiful story. A part of history.
I've already learnt so much, and know I have so much more to learn. I hope we make you proud. Each and every one of you heroes.
#waiting for our #JourneysEnd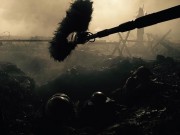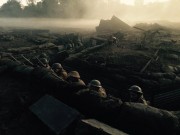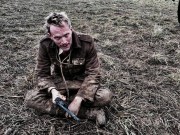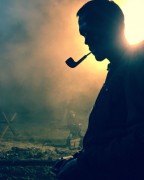 Photos by Paul Bettany [x] [x] [x] [x]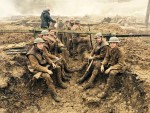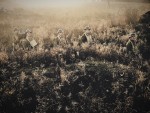 Photos by Asa Butterfield [x] [x]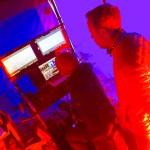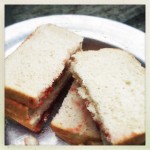 Photos by Director of Photography Laurie Rose [x] [x]
Morning from the trenches #journeysend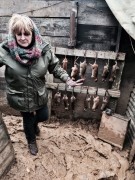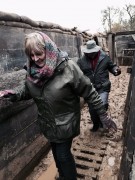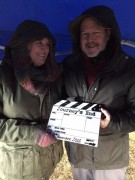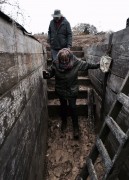 Wet, cold, wind, mud, trenches, smoke, explosions, flying mud & bits. Great stuff. #JourneysEnd will be amazing.
Sporting a lovely pair of long johns, Sam contemplates the lack of sleep and the cold while filming at Pinewood Studios, Wales. [x] [x]
"'Cor blimey I love a pair of long johns to keep me warm. #nicehelmet #JourneysEnd"