Sam was in Pembrokeshire, Wales for a few weeks whilst filming for his new role as Buckley in Their Finest Hour and a Half. And during his time there he made time, as always, for his fans. Some lucky fans got the chance to meet him on set and watch some of the filming take place!
@AmyComp123 – A big thank you for everything this week! It's been great! Hope to see you in Pembrokeshire again soon <3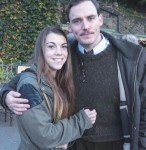 @phoebe_butland – Pembrokeshire will miss you!! Hope you come back soon!! 🙂 @samclaflin
@CrazyBandPhan – met @samclaflin just now, absolutely shaking! hes awesome!
@TobyEllis – @samclaflin 'Moby – Honey' tune!!  Hope you had a good night? Nice to meet you, top bloke