Teen Vogue Photoshoot
on February 18, 2013
with
Comments Off

on Teen Vogue Photoshoot
We are definitely in love with Sam's Teen Vogue Photoshoot!
If you missed the behind the scenes of this photoshoot, you can catch up : Here
And if you want to read Sam's full interview with Teen Vogue:
Here
First Still of Sam as Ben in Mary & Martha
on February 17, 2013
with
Comments Off

on First Still of Sam as Ben in Mary & Martha
First still of Sam as Ben
Mary & Martha will air on BBC One on Friday 1 March at 8:30 pm to 10:00 pm !
The film Mary & Martha stars Hilary Swank as Mary and Brenda Blethyn as Martha, an American and an English woman who have little in common apart from the one terrible thing – they both lose sons to malaria. Mary takes her young son, George (Lux Hanley Jardine), to Africa, promising adventure and fun when he contracts the disease, while Martha's son, Ben (Sam Claflin), dies while working as a volunteer in Mozambique.
Find out more about the film :
Here
Sam at Mulberry Fashion Show
on February 17, 2013
with
Comments Off

on Sam at Mulberry Fashion Show
This Sunday, February 17th, Sam attended the Mulberry Fashion Show in London at the Claridge's Hotel.
With Douglas Booth
You can watch the show in replay :
Here
(Sam at right front row)
Sam in Vanity Fair Hollywood Portfolio
on February 15, 2013
with
Comments Off

on Sam in Vanity Fair Hollywood Portfolio
Sam appears at 0:20 / 0:45 / 1:03 / 1:24
Chapter Three – Are You Free for Breakfast? is a video created by photographer Bruce Weber. This is a photo shoot for the Hollywood Portfolio which will debut in the March 2013 issue of Vanity Fair. Here is the video which features scenes with Sam Claflin along with a number of other young actors and actresses.
Portrait Studio – EE & Esquire Pre-Bafta Party
on February 14, 2013
with
Comments Off

on Portrait Studio – EE & Esquire Pre-Bafta Party
Handsome as usual! We were wondering if you prefer Sam with his natural hair color or with this actual one?
We personally love both, but we miss Sam with brown hair !
02/06/13 – If you missed the pictures of Sam at this event :
Here
Rankin Collabor8te Premiere
on February 13, 2013
with
Comments Off

on Rankin Collabor8te Premiere
Sam attended the Rankin Collabor8te Premiere in London, with his fiancé Laura Haddock on February 12th. Looking good as usual!
FIRST VIDEO
Q: Are you excited about tonight's event?
A: I'm very excited, yeah thrilled to be here. I mean i'm a big fan of Rankin's work and so to be apart of something this amazing, ya know, I think it's amazing. I'm very excited
Q: Why are you such a fan of Rankin?
A: I think he's got such a good eye. He's obviously such a very talented photographer. At the same time, he's a great man, who's always wanting to get more involed with charities such as this, so it's an incredible feeling.
Q: How useful a tool do you think short films are for inspiring the next generation of film making?
A: Well that's what I love about this industry. A lot of my friends are currently in the process of making short films. They are the film makers of tomorrow and I think that's what i'm excited about, you know, seeing the prospect of potential new Oscar winners.
*Talking about Catching Fire now*
Sam: I'm going off to finish Hunger Games at the end of the month. We have a week or so left of filming so i'm excited about that coming up, but at the same time, very nervous.
Q: I guess the obvious question fans are going to have..What can they expect from Catching Fire? How do you think it differs from the first film?
A: It's a very different story, you know, there's new characters. My character being one of them. A new directer. So you know it's going to be a very different outlook..a very different feel to it. I have not seen anything back so far so i'm excited about how it might turn out. I have faith in Francis and i'm sure it will be bigger and better than the last one.
Q: Tell us a little bit about your character, your tribute. What weapon does he use and how exciting was it and what kind of training have you done to get into the role?
A: I mean for me, reading the book, I fell more and more in love with the character, like i sort of auditioned without knowing anything about him and getting an opportunity to sit and talk with Francis and even Suzanne Collins. Finnick's a very complicated and complex character. Lots of ups, lots of downs, but his weapon of choice is a trident, which is something i'm not overly familiar with so I had to kind of train like three hours a day on top of going to the gym and everything. It was a very hard hard shoot but the physical shoots are the things I enjoy the most.
Q: You're working alongside an extraordinary cast like Oscar nominated Jennifer Lawrence. What's it like working with her?
A: She's a diamond. She is very hard working and at the same time likes to have fun, you know, she's very grounded and I think I can class her as a good friend now. I'm excited about seeing her again, it's been a while. I have to congratulate her officially, face to face. It will be good to see everyone again.
Q: You've had some great experiences working with leading ladies. Kristen, of course in Snow White. Do you think we are going to get a sequel to that? Will you be excited to take that further?
A: I'd love to give it another go, just because I enjoyed the process of making the film so much. Especially filming it in England. I feel like I was sort of apart of something original for the first time, so i'd be more than willing to jump back on board if that was ever an opportunity that came up.
Q: Final question. Do you have a message to all the fans out there? Anything you'd like to say? Specifically Hunger Games fans?
A: Make sure you watch the film (laughs). Keep a lookout for me. Hopefully i'll pop up somewhere, more than one place.
SECOND VIDEO
Q: You've been spending time with Jennifer because she's been here for the BAFTA's. What's her special quality?
A: She has an amazing ability to switch it on and switch it off and I think that's a rarity. A lot of people can to that but she has the ability to do that right up to the deadline, you know, that final stop point. She's very grounded, she's a lovely girl. I was blessed to be working with some incredible actors
Q: Lucky to work with you. So different director. Is it a different feel to this one?
A: I didn't work on the first one so I don't know how different a feel it is but it definitely felt like a family unit. All of us were happy to turn up for work everyday. Partly because we were filming in Hawaii, so you can't complain (laughs). We all got along really well and spent a lot of time socializing off set as well and so like I said, i'm looking forward to catching up with them all.
THIRD VIDEO
Q: What was your favorite video growing up?
A: The Goonies, growing up. Stand By Me is another classic, but The Goonies.
Q: Why The Goonies?
A: I don't know! It's the sense of adventure and the friendships. I was also obbessed with pirates and exploring and treasure, you know, all that sort of side of things so. Oh my god, I can't remember what the quote is! "Never say die!" Goonies "never say die". It holds a very special place in my heart, that film.
Sam Claflin Attends the Elle Style Awards
on February 12, 2013
with
Comments Off

on Sam Claflin Attends the Elle Style Awards
Sam Claflin attended the Elle Style Awards alongside Laura Haddock on February 11th, at the Savoy Hotel in London.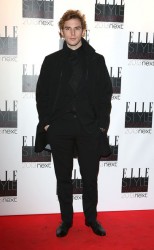 Looking stunning as always!

Sam Claflin at the the Y-3 AW13 Show Mercedes-Benz Fashion Week in NYC – February 10th
on February 11, 2013
with
Comments Off

on Sam Claflin at the the Y-3 AW13 Show Mercedes-Benz Fashion Week in NYC – February 10th
Sam attended the Y-3 AW13 Show Mercedes-Benz Fashion Week on Sunday 10th, in New York City. He was sitting next to fiance, Laura Haddock and actor Nikolaj Coster-Waldau. He also had time to talk with NYMag about fashion, being nervous to play Finnick, and Jennifer Lawrence !
NYMag
: "Another face we didn't need to Google was that of Sam Claflin: We recognized his cheekbones from the
Catching Fire
cover of
Entertainment Weekly
.
Claflin, who wraps shooting on the Hunger Games sequel in a week, was taking in his first New York Fashion Week like the calm, cool fashionista he says he isn't, or maybe is. "I would say I don't call myself [a fashionista], but I do sort of secretly," he grinned. "I would never sell my soul to fashion, but I do care about what I wear and how I wear it. I don't want to see myself in a magazine, for example, dressed like a tramp." Especially not with Catching Fire, the follow-up to Hunger Games, about to increase dramatically the quotient of paparazzi and screaming, swooning Finnick fans asking him to autograph their boobs. "I'm very nervous, but there's only so much anyone can warn you about it all," he said. "For me it'll be a bit different [than for the others] because I'm the only one who doesn't live in Los Angeles, and it's different for every character, for every actor, and how that actor deals with that kind of attention.
"
Laughed his fiancé, British actress Laura Haddock, "We mostly stay inside and watch a lot of television. We don't really go out and party and expect to be seen." His co-star Jennifer Lawrence doesn't have much choice on that front, being as she's an Oscar front-runner for Silver Linings Playbook, which apparently is going to give Claflin some kind of repetitive-stress syndrome from constant texting. "Every day she's winning something, and the same day she's been nominated for something else, so I'm texting her day after day going, 'Congratulations,' 'Congratulations…'" he grinned. Actually, both he and Haddock lit up on the subject of Lawrence – everybody's favorite person these days thanks to her endless frank, charming sound bites – and insisted they desperately want her to win. "She's so down to earth," Haddock said. "The second you meet her she brings you into her world, and she's such a normal girl, but she's got all this crazy excitement bubbling away inside her. All you want for her is success and happiness." Claflin added, "She's not going to change. I don't think there's any chance she'll change." We hope not – we'd hate to have to go all Game of Thrones on Katniss Everdeen, of all people. Especially because she'd totally win."
Sam Claflin at the BAFTA Rising Stars Party
on February 7, 2013
with
Comments Off

on Sam Claflin at the BAFTA Rising Stars Party
Sam and Laura Haddock
Last night, Wednesday 6th, Sam attended the BAFTA Rising Stars Party, with his fiancée Laura Haddock
It seems like Sam is going to the BAFTA on Sunday 10th, we'll keep you in touch
Video BTS of Sam Claflin Teen Vogue photoshoot
on February 6, 2013
with
Comments Off

on Video BTS of Sam Claflin Teen Vogue photoshoot
Recently, Sam Claflin did a shoot/interview with Teen Vogue Magazine, but he also had a video interview taken of him! (transcription after the screencaps)
"Hi, I'm Sam Claflin and welcome to my Teen Vogue 10th Anniversary shoot. I play a character called Finnick Odair in he new Hunger Games film. He is a previous winner of the hunger games. He won when he was 14 and he's basically with other winners from previous hunger games to participate in the Quarter Quell which basically every 25 years is a special hunger games and the kids don't neccessarily have to fight each other, there's new rules. I was on set..it was actually my last day filming a horror film in the middle of the evening. It was about 11:00 pm and I got the phone call and I was in the middle of driving a car through a garden when my phone rang in the middle of a take and the producers cut the take and said "Sam Sam, it's really important. You need to answer this phone call." I answered it and kind of cried myself to sleep, I was so happy. It was very unexpected. I..I definitely was not waiting for that phonecall. I had kind of forgotten about it and assumed it was not going to come but they decided to give me a chance. (Holding dog now) Cutest little dog i've ever seen in my life. Reading the book, Finnick Odair is a "greek god". I've been training every single day. A triden holding(?), stunt rolling(?).. it's been very very tough. You know my diet, I have to say is probably the most depressing menu to look at if you enter a resaurant. I..I mean i've done chicken and asparagus for four months. I want a burger and pizza but I feel if I can last this long. The final month of filming I get home to my moms turkey, cranberry sauce, I dont care what it is, I'm hungry(?) I think because my life is so exciting, you know I get to see some incredible places and meet incredible people. The moment I have any opportunity to kind of have time to myself, I like to just do nothing. You know, sit at home with my friends, my family and just quite literally watch the X Factor.. I don't want to have to think or have to worry. Just sit in my pajamas and put my feet up. Thank you for checking out my Teen Vogue 10th Anniverary shoot. I'm off to go get some sleep. I'm tired (laughs) thank you!"
We apologize ahead of time if the subtitles are not entirely correct
And once again.. amazing interview from the talented Sam Claflin.