Rankin Collabor8te Premiere
on February 13, 2013
with
Comments Off

on Rankin Collabor8te Premiere
Sam attended the Rankin Collabor8te Premiere in London, with his fiancé Laura Haddock on February 12th. Looking good as usual!
FIRST VIDEO
Q: Are you excited about tonight's event?
A: I'm very excited, yeah thrilled to be here. I mean i'm a big fan of Rankin's work and so to be apart of something this amazing, ya know, I think it's amazing. I'm very excited
Q: Why are you such a fan of Rankin?
A: I think he's got such a good eye. He's obviously such a very talented photographer. At the same time, he's a great man, who's always wanting to get more involed with charities such as this, so it's an incredible feeling.
Q: How useful a tool do you think short films are for inspiring the next generation of film making?
A: Well that's what I love about this industry. A lot of my friends are currently in the process of making short films. They are the film makers of tomorrow and I think that's what i'm excited about, you know, seeing the prospect of potential new Oscar winners.
*Talking about Catching Fire now*
Sam: I'm going off to finish Hunger Games at the end of the month. We have a week or so left of filming so i'm excited about that coming up, but at the same time, very nervous.
Q: I guess the obvious question fans are going to have..What can they expect from Catching Fire? How do you think it differs from the first film?
A: It's a very different story, you know, there's new characters. My character being one of them. A new directer. So you know it's going to be a very different outlook..a very different feel to it. I have not seen anything back so far so i'm excited about how it might turn out. I have faith in Francis and i'm sure it will be bigger and better than the last one.
Q: Tell us a little bit about your character, your tribute. What weapon does he use and how exciting was it and what kind of training have you done to get into the role?
A: I mean for me, reading the book, I fell more and more in love with the character, like i sort of auditioned without knowing anything about him and getting an opportunity to sit and talk with Francis and even Suzanne Collins. Finnick's a very complicated and complex character. Lots of ups, lots of downs, but his weapon of choice is a trident, which is something i'm not overly familiar with so I had to kind of train like three hours a day on top of going to the gym and everything. It was a very hard hard shoot but the physical shoots are the things I enjoy the most.
Q: You're working alongside an extraordinary cast like Oscar nominated Jennifer Lawrence. What's it like working with her?
A: She's a diamond. She is very hard working and at the same time likes to have fun, you know, she's very grounded and I think I can class her as a good friend now. I'm excited about seeing her again, it's been a while. I have to congratulate her officially, face to face. It will be good to see everyone again.
Q: You've had some great experiences working with leading ladies. Kristen, of course in Snow White. Do you think we are going to get a sequel to that? Will you be excited to take that further?
A: I'd love to give it another go, just because I enjoyed the process of making the film so much. Especially filming it in England. I feel like I was sort of apart of something original for the first time, so i'd be more than willing to jump back on board if that was ever an opportunity that came up.
Q: Final question. Do you have a message to all the fans out there? Anything you'd like to say? Specifically Hunger Games fans?
A: Make sure you watch the film (laughs). Keep a lookout for me. Hopefully i'll pop up somewhere, more than one place.
SECOND VIDEO
Q: You've been spending time with Jennifer because she's been here for the BAFTA's. What's her special quality?
A: She has an amazing ability to switch it on and switch it off and I think that's a rarity. A lot of people can to that but she has the ability to do that right up to the deadline, you know, that final stop point. She's very grounded, she's a lovely girl. I was blessed to be working with some incredible actors
Q: Lucky to work with you. So different director. Is it a different feel to this one?
A: I didn't work on the first one so I don't know how different a feel it is but it definitely felt like a family unit. All of us were happy to turn up for work everyday. Partly because we were filming in Hawaii, so you can't complain (laughs). We all got along really well and spent a lot of time socializing off set as well and so like I said, i'm looking forward to catching up with them all.
THIRD VIDEO
Q: What was your favorite video growing up?
A: The Goonies, growing up. Stand By Me is another classic, but The Goonies.
Q: Why The Goonies?
A: I don't know! It's the sense of adventure and the friendships. I was also obbessed with pirates and exploring and treasure, you know, all that sort of side of things so. Oh my god, I can't remember what the quote is! "Never say die!" Goonies "never say die". It holds a very special place in my heart, that film.
Sam Claflin Attends the Elle Style Awards
on February 12, 2013
with
Comments Off

on Sam Claflin Attends the Elle Style Awards
Sam Claflin attended the Elle Style Awards alongside Laura Haddock on February 11th, at the Savoy Hotel in London.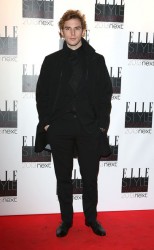 Looking stunning as always!

Sam Claflin at the the Y-3 AW13 Show Mercedes-Benz Fashion Week in NYC – February 10th
on February 11, 2013
with
Comments Off

on Sam Claflin at the the Y-3 AW13 Show Mercedes-Benz Fashion Week in NYC – February 10th
Sam attended the Y-3 AW13 Show Mercedes-Benz Fashion Week on Sunday 10th, in New York City. He was sitting next to fiance, Laura Haddock and actor Nikolaj Coster-Waldau. He also had time to talk with NYMag about fashion, being nervous to play Finnick, and Jennifer Lawrence !
NYMag
: "Another face we didn't need to Google was that of Sam Claflin: We recognized his cheekbones from the
Catching Fire
cover of
Entertainment Weekly
.
Claflin, who wraps shooting on the Hunger Games sequel in a week, was taking in his first New York Fashion Week like the calm, cool fashionista he says he isn't, or maybe is. "I would say I don't call myself [a fashionista], but I do sort of secretly," he grinned. "I would never sell my soul to fashion, but I do care about what I wear and how I wear it. I don't want to see myself in a magazine, for example, dressed like a tramp." Especially not with Catching Fire, the follow-up to Hunger Games, about to increase dramatically the quotient of paparazzi and screaming, swooning Finnick fans asking him to autograph their boobs. "I'm very nervous, but there's only so much anyone can warn you about it all," he said. "For me it'll be a bit different [than for the others] because I'm the only one who doesn't live in Los Angeles, and it's different for every character, for every actor, and how that actor deals with that kind of attention.
"
Laughed his fiancé, British actress Laura Haddock, "We mostly stay inside and watch a lot of television. We don't really go out and party and expect to be seen." His co-star Jennifer Lawrence doesn't have much choice on that front, being as she's an Oscar front-runner for Silver Linings Playbook, which apparently is going to give Claflin some kind of repetitive-stress syndrome from constant texting. "Every day she's winning something, and the same day she's been nominated for something else, so I'm texting her day after day going, 'Congratulations,' 'Congratulations…'" he grinned. Actually, both he and Haddock lit up on the subject of Lawrence – everybody's favorite person these days thanks to her endless frank, charming sound bites – and insisted they desperately want her to win. "She's so down to earth," Haddock said. "The second you meet her she brings you into her world, and she's such a normal girl, but she's got all this crazy excitement bubbling away inside her. All you want for her is success and happiness." Claflin added, "She's not going to change. I don't think there's any chance she'll change." We hope not – we'd hate to have to go all Game of Thrones on Katniss Everdeen, of all people. Especially because she'd totally win."
Sam Claflin at the BAFTA Rising Stars Party
on February 7, 2013
with
Comments Off

on Sam Claflin at the BAFTA Rising Stars Party
Sam and Laura Haddock
Last night, Wednesday 6th, Sam attended the BAFTA Rising Stars Party, with his fiancée Laura Haddock
It seems like Sam is going to the BAFTA on Sunday 10th, we'll keep you in touch
Video BTS of Sam Claflin Teen Vogue photoshoot
on February 6, 2013
with
Comments Off

on Video BTS of Sam Claflin Teen Vogue photoshoot
Recently, Sam Claflin did a shoot/interview with Teen Vogue Magazine, but he also had a video interview taken of him! (transcription after the screencaps)
"Hi, I'm Sam Claflin and welcome to my Teen Vogue 10th Anniversary shoot. I play a character called Finnick Odair in he new Hunger Games film. He is a previous winner of the hunger games. He won when he was 14 and he's basically with other winners from previous hunger games to participate in the Quarter Quell which basically every 25 years is a special hunger games and the kids don't neccessarily have to fight each other, there's new rules. I was on set..it was actually my last day filming a horror film in the middle of the evening. It was about 11:00 pm and I got the phone call and I was in the middle of driving a car through a garden when my phone rang in the middle of a take and the producers cut the take and said "Sam Sam, it's really important. You need to answer this phone call." I answered it and kind of cried myself to sleep, I was so happy. It was very unexpected. I..I definitely was not waiting for that phonecall. I had kind of forgotten about it and assumed it was not going to come but they decided to give me a chance. (Holding dog now) Cutest little dog i've ever seen in my life. Reading the book, Finnick Odair is a "greek god". I've been training every single day. A triden holding(?), stunt rolling(?).. it's been very very tough. You know my diet, I have to say is probably the most depressing menu to look at if you enter a resaurant. I..I mean i've done chicken and asparagus for four months. I want a burger and pizza but I feel if I can last this long. The final month of filming I get home to my moms turkey, cranberry sauce, I dont care what it is, I'm hungry(?) I think because my life is so exciting, you know I get to see some incredible places and meet incredible people. The moment I have any opportunity to kind of have time to myself, I like to just do nothing. You know, sit at home with my friends, my family and just quite literally watch the X Factor.. I don't want to have to think or have to worry. Just sit in my pajamas and put my feet up. Thank you for checking out my Teen Vogue 10th Anniverary shoot. I'm off to go get some sleep. I'm tired (laughs) thank you!"
We apologize ahead of time if the subtitles are not entirely correct
And once again.. amazing interview from the talented Sam Claflin.
Sam Claflin attends the Instyle Best of British Talent Party
on January 31, 2013
with
Comments Off

on Sam Claflin attends the Instyle Best of British Talent Party
On Wednesday 30th, Sam attented the Instyle Best of British Talent party at the Shoreditch House in East London, with his lovely fiancé Laura Haddock. What a charming couple!
The party celebrates Britain's talent in film, television and music.
Speaking to
InStyle
, Sam said:
"I haven't heard anything about [a Snow White sequel]," adding: "I'd be more than willing to get on board with that, I had so much fun on the first one. I enjoyed working with all the guys so I'd be happy to relive that experience."
Whether 'Snow White 2′ will ever be made is uncertain, we'd love to see our prince William again.
InStyle
got to interview Sam at the party: "
Joining a host of TV, film and music stars at InStyle's Best Of British Talent Party was Snow White And The Huntsman star Sam Claflin. Joined by his fiancé, he looked seriously dapper in an outfit he joked he had "just thrown together". He chatted to us about this year's biggest awards season winner, Jennifer Lawrence, and getting back to reality after living in "the dream world" that was the Hunger Games.
Sam plays new boy Finnick Odair in latest Hunger Games instalment, Catching Fire, and it's clear he struck up a lasting friendship with Jennifer during his time on set: "She was amazing – love her to bits. I have all the time in the world for her and she's obviously doing hugely well."
Though he joked that her recent run of success may mean she's now rethinking their relationship: "It got to a point where I was texting her every day saying: "Congratulations, congratulations again for something else, congratulations on your nomination, congratulations on winning" and I think she must be bored of my English voice by now!"
About the forthcoming film he revealed: "I'm hugely excited to see it, but nervous to be honest. We worked so hard and had so much fun."
And it seems the hard graft wasn't just reserved to Sam's on-set experience – his diet for the active role also proved a struggle: "People think I exaggerate when I say I literally ate chicken and asparagus every day, twice a day for three/four months."
Having nearly wrapped the movie, Sam says he's more than ready to tuck back into a few hearty meals and settle back into reality: "I recently bought a house, well a year ago, but it's a matter of making it my own. So I've just been spending some time with my fiance and back to reality. I'm living the dream!"

Via @samclaflin via galeismineiamhis, and thanks to our friends Hggirlonfire.
Cute Picture of Sam Claflin in Vanity Fair
on January 29, 2013
with
Comments Off

on Cute Picture of Sam Claflin in Vanity Fair
Sam Claflin in the March Issue of Teen Vogue
on January 29, 2013
with
Comments Off

on Sam Claflin in the March Issue of Teen Vogue
click for bigger
Teen Vogue: Aloha, Sam! Congratulations on scoring the role of Finnick Odair. How did this all go down?
SAM CLAFLIN: Yeah, so they decided to go with me as opposed to any of the other young, hot, good-looking actors out there. [Laughs] I auditioned like everyone else. I didn't know what it was for before I went in, and I hadn't read the books. Looking at the page with a character named Finnick, I was like, Who the heck is Finnick? And then I saw Katniss on the page, and I was like, Ahh, OK, maybe this is The Hunger Games. Then they decided they would dye my hair blonde, and presto, there's your Finnick Odair!
TV: Do you like your blonde hair?
SC: It's definitely taking some getting used to. I have a tan and a six-pack now after four months of hard work. I feel slowly but surely like I am Finnick Odair.
TV: Your training sounds intense!
SC: From the moment I set foot in Atlanta, they had me at the gym, working out twice a day. And then stunt training, it's nonstop. To be fair, I spend a lot of the film carrying an old lady on my back, as Finnick carries Mags for the majority of the arena scenes. I feel like every day of filming is a workout, running around Hawaii with little old Lynn Cohen on my back. As for my diet, I think I've eaten more chickens than there are in the world. [Laughs] I would eat chicken and asparagus for lunch and dinner, and for breakfast I'd have an omelet and oatmeal. And I had that every day for four months. I've talked to my friends and said, "Oh my God, I'm so depressed, I just want a burger." And they're like, "You don't know how lucky you are to be doing what you are doing."
TV: What makes Finnick such a great character to play?
SC: There are so many complexities to this character. Finnick has a tempestuous relationship with Katniss—she trusts him one minute, and the next she doesn't. I love their relationship. Together they eventually realize they need each other to survive, and that is beautiful.
TV: What is it like working with Jennifer Lawrence?
SC: Jen is the most talented actress I have had the pleasure of working with. She is truly amazing. She has everything already and doesn't have to try. But the fact that she is so professional and hardworking and willing to get her hands dirty makes her even more amazing.
TV: And what about Josh Hutcherson and Liam Hemsworth?
SC: With Josh, we hit it off from the first conversation we ever had, which was about soccer. He asked me if I like soccer, and I was like, Yes, I'm English! It kind of got blown out of proportion, spending time off set playing soccer. It's a definite bromance. I think I'm quoting him on that, or Jen. Unfortunately, Finnick and Gale don't ever cross paths in this particular film, so I've not really had the opportunity to get to know Liam very well. If he is anything like his brother Chris, which I'm sure he is, I'm sure he's a lovely, lovely guy.
TV: How is shooting in Hawaii, and what do you do on your days off?
SC: We're currently shooting a lot of the arena stuff. The wet suits are starting to get hot and stuffy. It's kind of a dream, really. We hang out, go to the beach. I tried surfing the other day. We play a lot of soccer and we go to the cinema. We just hang out like normal people. I think that's the most amazing bit I found from working with famous people: Everyone is kind of the same. You cannot expect them to be somewhat superheroes, trying on capes and broomsticks. [Laughs] Together, we're a very happy family.
TV: Sounds like a lot of fun. Are there pranks on set?
SC: Oh yeah. There are lots of tricks that we play on each other. Josh and I are currently planning on hijacking a chicken and hiding it in Jen's trailer. Whether or not that comes true, I don't know.
TV: After the film comes out, your life will definitely change. Are you preparing in any way?
SC: Finnick isn't Peeta or Katniss. I wanted to play Katniss, but they refused. [Laughs] I live in London, which is miles away from where those guys live. Therefore, it could be very different.
TV: What can we expect from Finnick? Can you give us a little teaser?
SC: All I can say is I try very hard and hopefully I won't disappoint people. He's a very charming physical being, and hopefully he will be exactly what people read in the book and I won't be doing an injustice. I purposefully did not want to watch anything I've done so far; I actually don't like looking at my face, so I don't like watching myself on the screen. It's an insecurity thing I have. I'm somewhat of a perfectionist, I think, and I strive for perfection. The reason I'm an actor is because I'll never be able to be perfect. I hope people enjoy my interpretation. Hopefully we'll make a bigger and better one this time around.
Possibly a March Teen Vogue issue with the lovely Sam Claflin. All we know is Sam looks terrific as usual.
Teen Vogue is offering us -Claflin Cadets- a new photoshoot and a new interview! We definitely can't wait to see it. What about you?
Via glossynewsstand
Francis Lawrence talks about casting Sam as Finnick Odair
Francis Lawrence, the director of the Hunger Games: Catching Fire, recently shared his vision for Catching Fire, with
MTV
. He also highlighted some of Sam's best qualities. In conclusion: Yes! Sam is the Perfect Finnick Odair
Take a look and tell us what you think!
"Finnick Is More Than Fine When Lawrence inherited "The Hunger Games" franchise he also inherited the responsibility of casting "Catching Fire"'s most anticipated dream boat: District 4 tribute Finnick Odair. For a while there, it seemed every working actor under the age of 35 was rumored to be in contention, but it was "Snow White and the Huntsman" star Sam Claflin who would ultimately wield the trident. Many fans were none-to-sure about Claflin's casting, but Lawrence ensured the 26-year-old will live up to expectations.
"[Claflin] is very athletic, which is great. He's in great shape. He's very charismatic," Lawrence said. "But I was also looking in the long term. There's kind of a rouge-like quality to him in this book. And long term, he's actually an emotional character and a very loyal character and a character who's in love; a character who experienced quite a lot of sadness. And he was really able to tap into that, as well as being really charming and sexy and handsome as hell."
Sam Claflin talking with Future Radio
on January 21, 2013
with
Comments Off

on Sam Claflin talking with Future Radio

As some of you may know, Sam Claflin was interviewed on Future Radio this morning! For those of you who weren't able to hear, you can finally listen to the full interview!
Future Radio Interview
(We apologize ahead of time if the following isn't 100% identical to what Sam/Future Radio says)
FR: Firstly, I'm a huge fan of The Hunger Games 'cause I read all the books. Had you read the books, before you got the part?
SC: Before I got the part? No, no. Funnily enough, when I first went to see the first The Hunger Games, the original, I had no idea that it was a trilogy. I had no idea it was based on books. I just knew there was a big hype around – you know it was being called the new Twilight. And what have you. So I think I was curious as to what this big thing, this… You know, I was very curious. And kind of got the audition for this part of Finnick Odair. I was in Los Angeles. I remember saying 'Who the hell is this Finnick?' And I tried to go on Wikipedia and do as much research as possible prior to my first audition, and luckily I was kind of steered in the right direction by the casting director and the director himself. Between the moment that I was sort of offered the part and I was kind of trying to work out the smaller details as the contracts and what have you, I read the books and I read them in five days. Couldn't quite help but turn the page and keep reading, you know, you can't just put it down.
FR: He was my favorite character, I feel he has the biggest arc and his development is brilliant. Was he one of yours? Did he stand out for you when you were reading it? You got a good part?SC: I mean, for me, again, like, I was kind of – yeah he definitely stuck out somewhat. But for all the wrong reasons. Very selfishly, that was the only character I really cared about. No, but the great thing about the books, um, that Suzanne Collins kind of created great arcs to each and every character. No matter, you know, from Katniss all the way down to her sister, her mother. You know each character kinda goes on a journey and I think that's what's so perfect about the books themselves.
FR: On the subject of Finnick, he's quite a significant character in the story and he's won. All the fans of the original literature are going to have a mental picture of him in their minds. You're gonna have this well established picture in people's minds of what Finnick should be. How do you approach portraying a character like that with such expectations already there?SC: I mean, I have to say the pressure is on. I mean, I'm a member of Twitter and, you know, specially when it was first announced there was a huge backlash. Some positive and some very negative, you know, people were like saying they want to kill themselves, that I wasn't anywhere near a good looking Finnick. Everyone has their own perception of what a good-looking person is. And basically, all I can do is do my best and you know it's – you have to kinda try not reading the bad press or whatever, you know? You have to just kinda keep focusing and, you know, working hard and the moment you kind of channel all that out – you know, I just have fun really and it was hard work, it was definitely, definitely hard work, you know. I was eating chicken and asparagus twice every day, not including all the other meals I was forced to have each day and, you know, working out three times a day. I didn't really have a life, but when I was on set you know, there was a great between the cast and the crew, you know it's like when you're in the middle of Hawaii – you don't really care of what other people think. I enjoyed the moment while I was in the moment. But now, you know, I'm still reading negative feedback but I mean, what can I do? I can't change my face.
FR: Also when you were cast as Finnick, you read the books, knowing that was going to be your part. Did you talk to the author at all for any sort of further advice on how she saw the character? Did you talk to her or the director before you hit the set?
SC: There was definitely a conversation that I had with the director. He was one of the first people I met when I first arrived in America. We had a sit-down, we talked through the script, through the novels and about the previous film. I knew that he wasn't the director on that but we talked about the flaws and ways of improving or developing the characters' arc. And obviously, the unfortunate thing about a film version is that they are trying to make it accessible to a younger audience. There are certain aspects you can't include, one being, Finnick Odair wearing just the net, not covering his crotch – that was something that we couldn't, unfortunately, include but you know, I'm scantily clad. Hopefully people will still be happy. It was quite, kind of – being able to have this kind of discussion with the director and with other cast members as well, you know, talking about how our character arc together and journey that we all go on. You know, it's invaluable, really – you have to kind of really take that and use that and make the most of it.
FR: Was there a discussion about your accent, at all?
SC: Yeah, I mean. From the beginning I knew that I was gonna have to be doing an American accent. It's okay. I've left Norwich now, I'm all cool. I have to work on it.make the most of it.
FR: It's a conscious choice, isn't it? I mean it's quite difficult to do constantly, I imagine.
SC: Yeah, it's – but when I was on set, there was obviously times that knowing that I would, you know, speak a lot, I would kind of try and keep the accent going when they say 'Cut', you know to kind of keep it in my brain. But I was also 'cause I was surrounded by Americans, that it was a lot easier to kinda come by. It wasn't too much of an issue, I don't think . There was a couple of moments that the director would say 'Sam – you said that completely wrong' 'Oh God, sorry!' But then, you know, that's something that I can do in post-production and we can re-record things. Not really a big big deal.
FR: We spoke about – 'cause we had a Films of the Year podcast over Christmas and I think we all loved The Hunger Games. But one thing we commented on was the very serious tone of the subject matter and what I always liked about this film was that it was very aware of its subject matter, it was very delicate, very aware of where the audience will be, mentally. When, on set, you were filming Catching Fire, is there a same sort of awareness, I mean is everyone sort of heightened to the point that they know the subject matter is delicate and they kind of have to watch or is it kind of a sort of lively, happy-go-lucky kind of place, trying to gauge the sort of the vibe that might be in or around the place during the filming of it?
SC: I'd love to say that we all took it very seriously, we were very professional – and we are, you know, when we have to be, when we need to be. When they say 'Action' we're all switched on. Everyone's at positions, everyone's doing the right thing. However, you know, the moment they say 'Cut', like the in-between takes, that time we spend kinda being very mischievous, like all of us were super hyper. It was for the director to kind of take that on board. I do not envy him. As a collective, we were a nightmare but individually, I think, we were all good. But no, I mean, the subject matter is something that I personally loved. You know, I'm surprised that it kind of touched base with so many teenagers. You know it's one of those things – it's about kids killing each other. And you know, the books are a lot more gruesome as opposed in the first film. But they have to make it accessible to that young audience, so it's tough. It really is tough. Kind of make the most of what they have, what they can have.
FR: You talked a little bit about your co-stars and working with some of the biggest actors in the business. Philip Seymour Hoffman – I mean, he's in Catching Fire. Does that kinda intimidate – that must intimidate you. You just walk on the set with these – just incredible people. Does it freak you out?
SC: It does. You can't help but let it, you know – it's one of those things that go through you, it goes straight through you. I mean, Stanley Tucci, Woody Harrelson, Philip Seymour Hoffman. Even Jennifer Lawrence is just, you know, one golden girl and what have you. I have been lucky enough to be surrounded by some of the best actors that are living. You know, from Johnny Depp, Penelope Cruz to Ian McShane. It's ridiculous the list of names that I have worked with. But you know, I know I'm very, very lucky to be in the situation that I am. Some of my friends in drama school haven't worked since drama school, and you know, you kind of just have to put it down to luck really.
FR: Well Sam, if you dont mind i'd like to go back in time with you if that's alright? I've recently watched Pillars Of The Earth and i've got to say, i loved it. It was brilliant. As far as tv really goes, that must have had a healthy budget and healthy backstage production. How did it go for yourself, because you're a local boy and how did it go from being on a TV series, then being flown to somewhere like Hawaii and do something huge like The Hunger Games?
SC: Well I think the biggest shock to the system was initially that first job, which was Pillars Of The Earth, you know i'd been studying drama school for like three years and i was supposed to be graduating that Summer. I left a month early to go and start Pillars Of The Earth. I'll never forget the phonecall saying "take your passport and clothes. You're going to the airport. You're going to Budapest" and i had never really gotten on a plane on my own before. I'd just shown up with a passport and I don't know what i'm doing. You know, I was kind of a deer in headlights. I was so lost and so confused and so worried and scared that I wasn't going to be good enough and they really really helped me and it was a great learning experience for me, really fantastic to get to work with some of the actors that i've kind of watched for years on TV and on the big screen and do have the opportunity to work with them was just absolutely incredible. You know I think the biggest shock to me was one day I was eating beans on toast and the next, I was in Budapest. I come home to a very normal life. I'll be working hard. I come home and watch the X Factor. It's so boring and so unglamorous that it's not even funny.
FR: You talked a little bit about your costars and working with some of the best actors in the business. Phillip Seymour Hoffman is in Catching Fire. Does that intimidate you? You just walk on set with some of these incredible people. Does it freak you out?
SC: It does. You can't help but let it, you know, it's one of those things that gets goes straight through you. Woody Harralson, Phillip Seymour Hoffman, you know even Jennifer Lawrence just won Golden Globes. I'm lucky enough to be surrounded by amazing people in the business. It's ridiculous the names that I have but I know that i'm so lucky to work with the people that I have.
FR: I've heard a rumor that whilst you were filming Snow White, you had an incident with your horse where it kinda took off on you and Chris Hemsworth came to the rescue. Now, you've been using a trident for the role of Finnick. So have there been any kind of close calls or horror stories whilst you've been filming?
SC: There really have. This is actually questionable how much I can talk about 'cause I was specifically asked not to mention some of the accidents that happened there. Let's just say I'm a very, very clumsy person. There was fall after fall after fall – I mean we basically, me and Francis, the director, we were laughing that there will be a whole DVD extra, you know, a whole DVD on its own for the blooper reel just for me. Because every time he'd say 'Action', you know just before he'd let the fire, I'd slip over or I'd fall – even when I'm standing still, I'd manage to fall over so um, there were plenty of accidents. My dad would probably tell you on the private.
FR: Well last thing before you do go, last week's top 10 movies, being Les Mis, Life Of Pie, and coming up soon we've got the Oscars and Zero Dark Thirty and Lincoln. Which one do you think will win out of those?
SC: Well the most depressing thing is i've not seen one of those films yet and when you've kind of been away from home and once you get home there's so much that I have to sort out. It's quite tough to get to the cimema. I have a friend who is in Les Miserables, Eddie Redmayne, who I worked with in Pillars Of The Earth, so I have to swing that way and also when I was a lot younger I did Les Miserables school audition in Norwhich and so again I have to go with that?
FR: Who did you play in Les Mis?
SC: I did it twice. One, I did my high school and I played Javert, the Russell Crowe part and the other I played (could not understand the next part)
FR: Do you think you can sing a little bit better than Russell Crowe?
SC: You know, from what i've seen, I hope so (laughs) but you know i'm not the best judge I have to say.
FR: Well Sam, I think we'd all like to say a massive thank you and Hunger Games is out later this year and we look forward to it very much and wish you all the best in your career for 2013 and beyond, so thank you.

And as for us.. as usual we were just totally ecstatic to hear this interview. Sam is obviously interesting, genuine, and down to Earth.. tons of success coming his way!