Mockingjay Part 1 NYC Press Conference & US Press Junket
on November 16, 2014
with
Comments Off

on Mockingjay Part 1 NYC Press Conference & US Press Junket
Sam attended a press conference in New York City on November 15th. In attendance were director Francis Lawrence, producer Nina Jacobson, Jennifer Lawrence, Josh Hutcherson, Liam Hemsworth, Sam Claflin,
Julianne Moore, Donald Sutherland, Jeffrey Wright, Natalie Dormer,
Willow Shields, and Mahershala Ali.
Busy
day for the cast of The Hunger Games: Mockingjay Part 1 as they continue to promote the
movie. Check out below more interviews of Sam in the US.

Thanks to @QuarterQuellOrg you can watch the HD version of the Press Conference: Here
Press Junket
Sam was special guest on CBS The Talk. He joined Sharon Osbourne and the rest of the ladies to discuss Mockingjay Part 1 and reveal a new clip featuring Finnick & Katniss. Sam's segment begins at 23:35:
Madrid Mockingjay Part 1 Photocall and Press Junket
on November 12, 2014
with
Comments Off

on Madrid Mockingjay Part 1 Photocall and Press Junket
Sam was invited to a Spanish TV Show 'Los Viernes Al Show'. So sweet as always!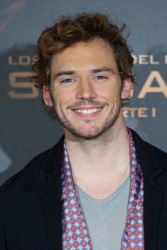 Another busy day for Sam as he continued to promote Mockingjay Part 1 in Madrid. He looked amazing as always as he attended a photocall and press junket for the movie.
Mockingjay Part 1 UK World Premiere
on November 11, 2014
with
Comments Off

on Mockingjay Part 1 UK World Premiere
Sam attended the world premiere of his new movie Mockingjay Part 1 on November 10th in London's Leicester Square. He attended alongside co-stars Jennifer Lawrence, Josh Hutcherson, Liam Hemsworth, Jena Malone, Jeffery Wright, Elizabeth Banks, Stanley Tucci, Donald Sutherland and Julianne Moore. Director Francis Lawrence was also in attendance.
Sam looked incredible as always in a maroon blazer and grey trousers.
We were lucky enough to be there and you can read our (spoiler free!) review if you like:
Here
Mockingjay Part 1 is out in UK cinemas on November 20th!
Earlier on in the day, Sam also attended the photocall and press conference for the movie along with his co-stars.
Press Conference

Interviews
SCF at Mockingjay Part 1 World Premiere
on November 11, 2014
with
Comments Off

on SCF at Mockingjay Part 1 World Premiere
SCF was in London once again to support Sam at the Mockingjay Part 1 World Premiere in Leicester Square on November 10th. Thanks to everyone who came to greet us, who are following us and supporting Sam! Lovely to meet you all!
Sam looked incredible and was sweet as always. Like we said to him, we will always be here to support him. So thank you again Sam for being such a wonderful person and for always being so sweet to us and everyone else. I was lucky enough to be pulled inside the cinema to go and watch the movie, by a woman from the security who picked people at random. I really didn't expect to get the chance to watch the movie. It was a huge surprise and I wasn't disappointed.
It was an absolute privilege to be at the Mockingjay Part 1 premiere in London to represent Sam Claflin Fans. I must say a huge thank you to Val for pursuading me to attend! I unfortunately didn't get to stand with the rest of Sam Claflin Fans as there was no more room so I stood further up and hoped that I would still get the chance to see Sam. And luckily I did. Sam recognised us from the Love, Rosie premiere and came straight over. As always, he was so sweet and kind and it was a pleasure to chat with him. Thank you for everything Sam. And I cannot wait to see the film on release day! – Jemma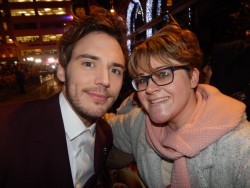 Review with NO spoilers (focus on Sam/Finnick)
Once again, Francis Lawrence made an incredible job. A masterpiece. Staying very true to the book (some of Finnick's most famous lines are in there), and at the same time innovating with brilliant visual effects.
We certainly loved every bit of Sam as Finnick Odair, from the beginning of the movie, to tying knots, to his speech about President Snow, to meeting again with the love of his life Annie Cresta. We can't wait to see more of these two together in Mockingjay Part 2. Sam perfectly portrayed the unstable and fragile Finnick described in the book. And wecouldn't be more proud!
As for the rest of the cast, everyone is AMAZING, special mention to Josh Hutcherson for his incredible acting as Peeta Mellark and Philip Seymour Hoffman who was truly honored in the movie. Overwhelming.
Hope you can all watch it soon and let us know what you think of the movie and Sam as Finnick!
PS: we can't say more with no spoilers.
 Check out all the photos we took at the premiere:
HERE
 We were interviewed by Digital Spy and of course we talked about Sam!
Sam at the Madrid Mockingjay Part 1 Premiere
on November 11, 2014
with
Comments Off

on Sam at the Madrid Mockingjay Part 1 Premiere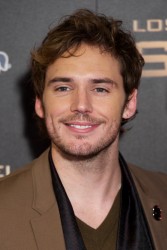 Continuing his promotion of Mockingjay Part 1, Sam attended the premiere of the movie in Madrid on November 11th. As always, Sam spent lots of time signing for and taking photos with fans and looked incredible in a brown jacket with a black silk scarf. Make sure you check out all the lovely photos of Sam at the premiere!
Mockingjay Part 1 UK Press Junket
on November 10, 2014
with
Comments Off

on Mockingjay Part 1 UK Press Junket
Sam & co-star Natalie Dormer were interviewed by Buzzfeed for the promotion of The Hunger Games: Mockingjay Part 1: Here.
L'Uomo Vogue Photoshoot
on November 10, 2014
with
Comments Off

on L'Uomo Vogue Photoshoot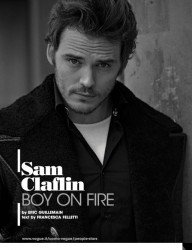 Italian magazine L'Uomo Vogue features a beautiful new photoshoot with Sam.
Many thanks to Divinehood on Tumblr for the scans.
Mockingjay Part 1 BTS Interview and B-Roll Footage
on November 7, 2014
with
Comments Off

on Mockingjay Part 1 BTS Interview and B-Roll Footage
Some amazing BTS interviews & B Roll footage from Mockingjay Part 1 have been shared by
QuarterQuell.org
, both of which include our wonderful Sam!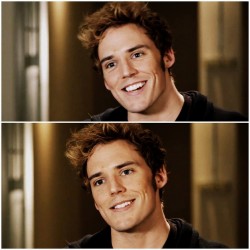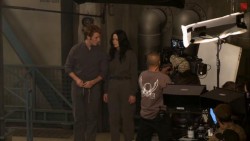 SCF London Adventure N° 3: The Riot Club & Love Rosie
This is with an absolute pleasure that I'm once again writing about SCF's adventures in London.
The first thing I did when I arrived in London on Saturday 4th was to
go watch The Riot Club (sadly it only comes out in France on December
31). I was really happy about this, cause it was Sam's project I was the
most looking forward to! London underground was full of The Riot Club
posters, and I couldn't be happier.


The Riot Club Review (warning spoilers!!!)
"Oh
My Wow", what an incredible movie. A true masterpiece. The cast is just
outstanding. We feel like we are drowned to the "Posh World"
immediately. From what I had read on Twitter, everyone was talking about
how much they hated Sam's character. But I can say, Alistair Ryle was
definitely my favorite character. And this needs explanations cause as
you may know, he is a terrible character. Sam portrayed beautifully a
young fragile boy, who has always lived in his brother's shadow, who was
brought up in the "Posh World" and who doesn't really get to choose his
life.
The fact that he gets assaulted, just reinforce all these ideas people tried to put in his head: despise poor people.
And this smart and fragile young man, joins The Riot Club because he needs recognition.
That's
when this character becomes really messed up, jealousy leads him in a
very dark place. It's almost like he feels no more emotion, and when the
dinner scene shows up, you can see Alistair Ryle in his glory.
Mischievous. Manipulating. Mean. Trying to be the best. Trying to be a
legend. Trying to get admiration from everyone. Sam blew my mind away.
He was more brilliant than ever. So talented that he can make you have
pity for a character who deserves no mercy for what he has done.
The movie ends with a beautiful close up. You definitely don't want to miss that!
My
favorite moment stays the monologue part at the dinner scene: so
powerful, driven, captivating.. we feel so much rage coming from him,
that it turns out like a masterpiece.
I
can say it's my new favorite movie Sam has ever been in. I even went to
watch it a second time on Sunday. And if you're over 15, you should go
run to the cinema to watch this wonderful movie. Great cast. Great
director. Great acting. Wish I could've seen the play from Laura Wade.
Congrats Sam!

On
Sunday, I went to the hmv store, for the signing with Lily Collins and
Sam. It was truly fantastic to see him again and be able to talk him,
and show him SCF's support.

On
Monday, we couldn't attend the Q&A at the Apple Store, because it
was at the same time than picking up the tickets for the premiere.
Thanks to Lionsgate and ThinkJam for allowing us to organize a ticket
competition and attend the premiere. Such a shame it was raining. But
all that matters is the movie.
This moment when it was raining, camera was blurry cause of the rain & I didn't know Sam was pulling a funny face lol
First
and foremost, the movie is a bit different from the book. For instance,
Alex doesn't have any children, he doesn't have a brother, we don't know
much about him being a surgeon, etc.. However the movie focuses completely on the strong friendship, just like the book.
The forgotten kiss between teenagers Alex and Rosie, states the chemistry between Sam and Lily Collins right away.
A pure romantic comedy with perfect acting and an amazing director.
Focusing
on Alex Stewart, Sam's character, his personality was very true to the book.
Sam doesn't need to say a word to make us feel thing
s. Alex's wedding
scene is just the proof of that.
All the emotions we could read on his
face were 10 times better than words.
And this went along beautifully
with Rosie's speech, very emotional. It was my favorite scene.
Funniest scene to me was the one when Rosie comes to visit Alex, when he is with Sally (Tamsin Egerton) – dinner table scene.
Lots of really
emotional scenes: when Alex meets baby Katie, when Alex says he isn't
ready to be a dad but has prepared the room for child who happened to
not be his, all the airports scenes, the fight scene in Boston, the
"magic silence" scene, when he writes THE letter, the funeral scene with
the teddy bear, when he drinks his beer alone at the bar, when he sees
Rosie s wedding invitation, the roof scene when they finally mention the
forgotten kiss.
And finally… The end of the movie, magical scene.
I
think Sam was amazing in this movie, as always. It's so interesting to
see him in something different, and i look forward to maybe see him in
comedies in the future.
Congrats to all the cast and crew, and director, for making such a good movie.
Can't wait to watch it again!
Here was SCF's story in London, hope you like it
Big thanks to Sam and his family for always being so kind to me!
More pics to come in the next few days!