Happy 29th Birthday Sam!!
on June 26, 2015
with
Comments Off

on Happy 29th Birthday Sam!!
It's June 27th, which can only mean one thing…it's our fave guy's 29th birthday! Happy Birthday Sam!
We asked you to come together to send in your wishes for Sam & you did. And here is the finished video.
We love it & we think Sam will too. Huge thank you to everyone who has taken part in either the video, or the scrapbook (or both!) The scrapbook has been sent & will hopefully get to Sam very soon. We will keep you updated & will be sure to post some photos once Sam has received it (we don't want to ruin the surprise!)
Many thanks to both Sam Claflin Brazil & Panem Propaganda for their help in promoting the project and special thanks to @jonnyhadapigeon for editing the video so beautifully!
And once again, a huge thank you to you all for taking part. As Sam would say…you ruddy rockstars!
UPDATE – On December 22nd 2015 Sam finally received our birthday book! And as you can see from his tweets he was very moved. Thank you to all who took part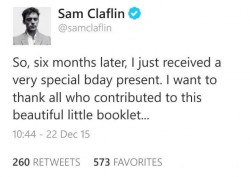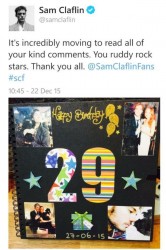 Mockingjay Part 2 Teaser Trailer
on June 9, 2015
with
Comments Off

on Mockingjay Part 2 Teaser Trailer
It's the moment we have all been waiting for and we have finally had our first glimpse of Sam reprising his role as Finnick Odair in Mockingjay Part 2!
The trailer treats us to some of Finnick's best moments including the Odesta wedding and a gorgeous moment between Finnick and Annie (played by the beautiful Stef Dawson)
Make sure to check out the trailer
HERE
.
Ladies and Gentlemen…welcome to the 76th Hunger Games! We don't know about you but it has definitely made us very excited for the film's release in November! What is your favourite moment from the trailer?
Birthday Project – Part 2! (Video)
on May 11, 2015
with
Comments Off

on Birthday Project – Part 2! (Video)
It's time to start thinking about Part 2 of our Birthday Project for Sam's 29th birthday – our yearly video message to our fave guy! If you are a new fan of Sam or a new follower of ourselves, you may not have seen
last year's
video message to him. Sam really appreciates his birthday video wishes and has tweeted his thanks for them for the past three years.
Want to take part this year? Here are a few tips to follow when sending in your messages:
E-mail your video and name/twitter username to samclaflinbdayproject@gmail.com

Try to keep your message to a maximum of 40 seconds

You must verbally tell where you're from (your country)

Keep it appropriate.

If you do not speak English, you can just add subtitles or send them!
Deadline to get your messages into us by is June 20th 2015. Good luck, have fun & we look forward to seeing your lovely wishes for Sam!
We would also like to say a big thank you to you all for your lovely messages for Part 1 of the
Birthday Project
– we will be taking lots of photos as the scrapbook comes together so make sure to keep checking back to see!
Sam's Birthday Project
on April 7, 2015
with
Comments Off

on Sam's Birthday Project
Yes, it's that time already! The year is passing so quickly & our dear Sam's birthday is fast approaching! And this year, along with our usual video message to Sam (article about that to follow a little nearer the time) we are looking to create a scrapbook with lots of happy birthday messages for our fave guy as he turns 29!
Obviously as it is a scrapbook which will need to be sent in the post we need to start planning it a little sooner than usual. And we want to fit in as many of your lovely messages as possible! So here are a few tips to follow when you are sending in your messages:
Tell us where in the world you come from so that we can place a little flag of your country next to your message.
If you have a photo with Sam, or a drawing you have done or a fave photo of Sam himself then send it along with your message & we will add it to the page.
Deadline to get your message in is May 10th 2015.
Sam really appreciates his birthday messages & has tweeted his thanks for the birthday project each year. Lets try & make this the best one yet!
Interview with Now Toronto
on March 25, 2015
with
Comments Off

on Interview with Now Toronto
Sam & director Lone Scherfig talk about their memories of filming
The Riot Club
with
Now Toronto
.
If you only know Sam Claflin as the dude who fell in love with the mermaid in that last Pirates Of The Caribbean film or bad-guy-turned-good Finnick Odair in The Hunger Games films, you're in for a bit of a shock with his new movie.
In
The Riot Club
, he plays Alistair, a quiet, privileged Oxford student whose angry ideas about class come out verbally – and eventually physically.
The role couldn't be more different from his own background growing up in the town of Ipswich, England, says the actor on the day of the film's world premiere at TIFF.
"I went to an average high school, had a life that was as normal as normal can be," he says, sporting a casual, scruffy look in contrast to Alistair's buttoned-down appearance.
"There was no privilege whatsoever. In fact, we were probably on the opposite end of the spectrum. My brothers and I worked ever since we could walk, in one way or another, and we all made our own ways.
"So for me to be going into this film and saying a line like 'I fucking hate poor people!' is quite a stretch. I'm not looking forward to my mum and dad watching it."
Director Lone Scherfig hails from Denmark but works a lot in England, having made An Education (in which she introduced the world to Carey Mulligan, who went on to get a BAFTA Award and an Oscar nomination) and the Jim Sturgess/Anne Hathaway romance One Day.
"There is a class system in Denmark, but not to the degree you find in England," she says in a separate interview. "It really is extreme in England. And the social mobility is quite low compared to places like [Canada]."
The film's most remarkable scene is an extended sequence in which the Riot Club, a group of wealthy Oxford students, wreak havoc on a country inn.
It was filmed, in sequence, over two weeks in Pinewood Studios.
"We were like these caged animals in one room, and you could feel the tension build and build," says Claflin. "Occasionally I had to take myself away from the action, because my character is an observer, a quiet manipulator. I found myself sitting in a corner watching the other guys. I also found myself wobbling a lot, mimicking a drunk feeling. The buildup of the tension felt natural. And when we had the opportunity to literally rip the set apart, it was quite something."
Scherfig and her crew filmed the scene with handheld cameras to get a sense of speed and urgency, she says.
"We wanted to get the sense of an explosion from inside. It's almost like what happens to the camera is what happens to the boys."
And was it difficult maintaining control of all these elements?
"The actors were collaborative and disciplined," she says. "They behaved much better in real life than they do in the film."