Journey's End Filming (Master Post)
on November 17, 2016
with
Comments Off

on Journey's End Filming (Master Post)
On November 7th, filming commenced on Sam's newest project Journey's End. Based on the 1928 play by R C Sherriff, it tells the story of life in the trenches during WW1. Sam will portray Captain Dennis Stanhope, a young commanding officer who has changed dramatically due to his time on the front line in France. The cast also includes Asa Butterfield, Paul Bettany, Tom Sturridge, Toby Jones & Robert Glenister. Below, we have written a synopsis & a description of some of the main characters so you can familiarise yourself with them!*
Synopsis: Set during the First World War, Journey's End concerns the lives of a group of British officers on the front line and opens in a dugout in the trenches in France. Raleigh, a new eighteen-year-old officer, fresh out of English public school, joins the besieged company of his friend and cricketing hero Stanhope, and finds him dramatically changed…
Stanhope (Sam Claflin) – Commanding Officer of an infantry company. Tall, with dark hair, carefully brushed, his uniform, though old & war stained is well cut & cared for. He is good looking, rather from attractive features, than the healthy good looks of Raleigh. Although tanned from months in the open air, there is a pallor under his skin and dark shadows under his eyes. Read more »
Ermenegildo Zenga London Boutique Opening
on November 10, 2016
with
Comments Off

on Ermenegildo Zenga London Boutique Opening
On November 9th, Sam attended the opening of the new boutique store of designer Ermenegildo Zenga on London's New Bond Street. The designer has previously styled him for shoots in magazines such as Zoo & it looks like Sam is a fan! As always, he looked incredible at the event, choosing a dark overcoat over a black double breasted suit & textured tie. And as it is almost Armistice Day, he also respectfully wore a poppy on his lapel. Sam is currently (& very poignantly for the time of year) filming Journey's End, the film adaptation of R C Sherriff's play, based on life in the trenches during WW1. And as such he is once again sporting a look reminiscent of the period, including that very fetching moustache! Check out some of the gorgeous photos from the event below, and you can find the rest in our Facebook album!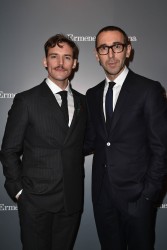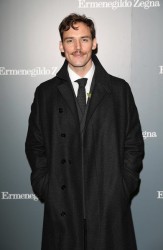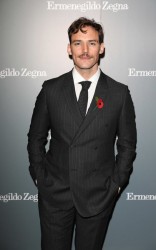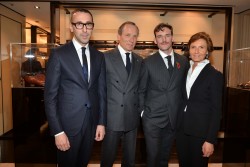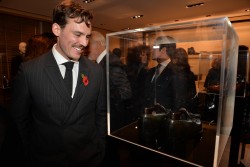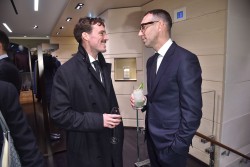 Photo source – http://www.fashionblog.it
SCF Youtube Q&A
on November 10, 2016
with
Comments Off

on SCF Youtube Q&A
Ever had a question about one of Sam's roles & can't find the answer? Or want to know a little more about us & our team and our fave things about our fave guy? Maybe you'd like to know our personal favourite roles of Sam's, or a fave line, or what it's like to attend a premiere! We are looking to do a Q&A over on our YouTube page, so if you would like to ask us a question then you can do one of two things:
Tweet us, using the hashtag #AskSCF
E-mail us your question to samclaflinfans@gmail.com
Deadline to get your questions into us by is Thursday 17th November!
We look forward to receiving your questions, and will answer as many as we possibly can!