Un-Titled Project Magazine – 2016
on January 29, 2016
with
Comments Off

on Un-Titled Project Magazine – 2016
Whilst promoting Mockingjay Part 2 last November, Sam took part in an interview with Laura Antonia Jordan for Un-Titled Project Publication. It is such a brilliant interview. As always, Sam is so open, honest and refreshing to listen to. And to accompany this incredible interview are some absolutely stunning photographs! You can read our transcript of the interview (& find the gorgeous photos!) below.
***PLEASE CREDIT US IF USING OUR TRANSCRIPT – The PDF of this magazine was bought & transcribed by a member of our team. Thank you ***
To say Sam Claflin's star is rising seems woefully inadequate; rocketing would be a more appropriate term. Certainly there has been nothing steady about the actor's career path to date. Just months out of LAMDA he was notching up parts in prestigious TV shows, chasing this up with scene stealing roles in Hollywood blockbusters like Pirates of the Caribbean: On Stranger Tides and Snow White and the Huntsman. Claflin, 29, isn't someone who's about to rely on a megawatt smile and 'nice guy' reputation to keep stoking his career, however, if you've seen his turn in The Riot Club you'll know he's not afraid to do nasty.  Read more »
Me Before You – Film release moved back to June 2016
on January 16, 2016
with
Comments Off

on Me Before You – Film release moved back to June 2016
Fans waiting for news of the release of Sam's new film Me Before You, based on the novel of the same name by Jojo Moyes received some this morning when Jojo tweeted in regards to the release date.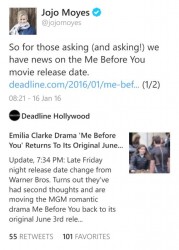 The film was originally given a June 2016 release. However, late last year, producers appeared to want to try and grab the US market during their Spring Break so decided to move the release date to March 2016. And now it seems they have had a change of heart, moving it back to its original June 3rd release date.
You can read both Deadline articles re the changes HERE
We are very much looking forward to seeing Sam in this role and cannot wait for June!
British GQ's 50 Best Dressed Men in Britain 2016
on January 4, 2016
with
Comments Off

on British GQ's 50 Best Dressed Men in Britain 2016
Sam was recently named by British GQ as one of the 50 best-dressed men in Britain 2016! Both the magazine editors themselves and Stuart Vevers, executive director of fashion brand Coach had some very complimentary things to say about our fave guy;
"Sam brings a fresh take to British classicism with traditional pieces – cardigans, jeans – styled with a cool but dishevelled attitude. His look is tailored and slouchy, smart and scruffy, all at the same time." Stuart Vevers, executive creative director, Coach.
GQ says: His role in the Hunger Games films has made him a huge star and he has the looks and style to stay the distance for many years to come.
Congratulations Sam! Totally deserved! Of course he is always number 1 in our eyes!